Let's Bloom, Seedling. 🌱
Maximum hydration easily at your fingertips. Healthy growth starts at the roots. Take that leap into happy nourishing without ever feeling the need to look back.
The ultimate journey begins here, with you.
Consider this it. 🪧
The sign you've been waiting for...... because self care is the best care. 😌💅🏼
Testimonials
I absolutely love every item I have tried from KNI! The cuticle oil and butter have helped my nails grow longer and healthier than ever before, and I'm not breaking them left and right like I used to! I also love the two scrubs, cuticle balm, and chapstick I have! And in terms of nail art items, I don't know how I lived without her perfect cleanup brush or sparkly, quick drying latex - gradients are so much more glamorous and way less effort than before! I'm not exaggerating when I say that I've been 110% satisfied with every product. Kass truly pours her heart into everything she makes and it really shows in the quality of products she creates!

@TesladayNails
Moisture balm, cuticle oil and terra stick are all must haves for your nail care!
Black cherry scent is my fave!!
Checkout their sensitive skin exfoliator as well!.

@dbookworm90
My nails grow pretty well, they break pretty well too. I've used other oils, none have stopped them from breaking except yours. I also keep polish on my toes all the time. This has caused them to dry out and have weird white chalky spots on them. Since I started using your cuticle oil on my toes too, these spots have now almost completely grown out. All these benefits AND amazing scents are making me a long term customer.

@SoulfullGinja
My nails have honestly never looked better after using KNI Cuticle Oil! 11/10!!! 😊   

@Becca1790
I love her products! They smell amazing, they are nicely packaged and top customer service!! 

A. Cowing
I have tried countless latex cuticle guards and none comparr to KNIbeautyandbath Glitter UP!  

@xoxo.pretty.polish
I love that all of your products are scented! They all smell soo good, it's like treating myself every time!

@badswatch
The sugar scrub works well if you are a technician. The clients love how smooth their feet are

@Susie_Polish
Love these (Miracle Growth Cuticle & Nail Oil Pens) and have given them to all the girls. Great way to take care when you only have a minute and the nails look wonderful - even my husbands!!! Finally!!!

G. Becker
I recently found your page, I'm not quite sure how, but I am so thankful I did! Your products are truly amazing! My nails have never looked so good in my entire life! After ALWAYS biting them my entire life, and having damage from getting tips put on, ive tried EVERY PRODUCT on the market. And nothing compares to yours! Thank you!!!!

@IreneMBrooks
I love my Halloween one (cuticle butter from the No Tricks, Just Treats box), I have it here on the side. I use this all the time so goes to show you her products are pretty awesome!

Del @FatCatPawlished
I am in LOVE with these products. They are both so moisturizing and actually penetrate the skin and nail plate. My nails are growing stronger and healthier than before due to the oils penetrating the nail plate my nails have also gotten visibly healthier, have a natural sheen to it, my cuticles are nearly nonexistent, and my nails are more scratch resistant. I really can't say enough things about this products and for the price you will not find anything better.

M. Kirstie
5 Stars

Kass knows what she is doing all the way around. Her cuticle oil is the bomb . com and her nail tape is the best I've ever used! The glitter is a nice touch. Can't wait to try all her other beauties

@Samtastic_IG
I've always had fragile nails, plus work with strong cleaning chemicals. I waited for this shop to open, wondering if this stuff would work for me and let me tell you my nails are thicker, glossier and growing more than I've ever been able too. All the scents are amazing and I really wish to get all of them. Scrub is super nice to use. I love every item I've bought from here. I even feel bad at the other cuticle latex guards I bought beforehand because I prefer these more. Great and cute shop!  

@Tomb.Keeper
Just applied this AMAZING scented miracle growth oil to my nails from @knibeautyandbath n I love it! scent is "Sweet Potato & Brown Sugar". I wanna eat my nails haha they smell good! My nails and cuticles are nourished and I'm excited to see an improvement in nail growth.

@Kandace_Cutler
what a fantastic product (Atmos Cuticle Butter) it melts like butter when you put it on your nails I have been using it for two and half weeks and my nails have grown so much is crazy

@InternNails
IT'S THE BEST I HAVE EVER USED! ❤😍💅🏻👄

Nails are growing fast and strong and my lips OMG My lips used to be very dry cracked and rough. MINTHE has smoothed n nourished to where I can now wear lipstick without it looking flakey. Thank you for existing to make the wonderful life changing skin smoothing nail growing products you do ❤🙏🏻💋💅🏻

R. Doherty
The cuticle oil smells amazing! and the glitter up looks sooo cute!

@KatieMarieNails
Lets Branch Out! 🌱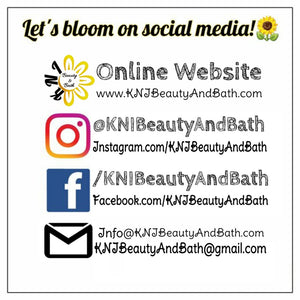 There's more of us to love!
Whether it's a mere tag, follow, or like - we welcome you! We promise to keep you up to date on our Facebook page, vow to casually interact with you & other members on our official Facebook group, & remain devoted to repost as much as we can on our Instagram feed for you to enjoy.
You can always use hashtag: #KNIBeautyAndBath & tag us to grab our attention on Instagram (handle: @KNIBeautyAndBath)!