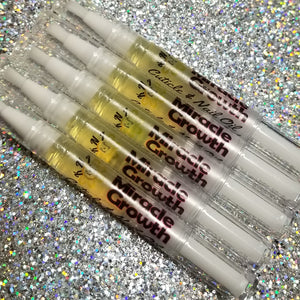 Come grab yourself a slice of the sweet life!
This set of five Cuticle Oil pens come in the following scents (Updated 8/3/21):
A fresh milk, scalded to culinary perfection, and rich cream cheese icing. A deep, comforting, milky scent.
A true bakery scent without candy notes. Freshly baked Banana Nut Bread right out of the oven!

 A delicious, traditional, layered European strudel packed with baked apples and sweet pumpkin. Notes of pumpkin, fruity apple, buttery nutmeg, spicy cinnamon & clove, creamy maple, caramelized sugar and vanilla.
The true aroma of a white birthday cake with creamy, swirled icing.
An absolutely irresistible homemade baked blend of warm vanilla caramel with dark brown sugar & butter drenched pecans.
Please Note these oils are meant for topical use and not for consumption. Please make sure the oil is a safe temperature to apply before applying if left in hot areas.
🌱Ingredients may include (unless otherwise stated):
Helianthus Annuus (Sunflower) Seed Oil, Amygdalus Dulcis (Sweet Almond ) Oil, Olea europaea, Simmondsia chinensis seed (jojoba) oil, Tocopheryl Acetate (Vitamin E), Matricaria chamomilla, skin safe fragrance, essential oil.