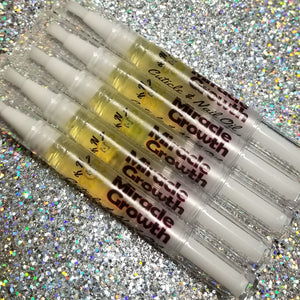 Warm, gathered around the fireplace is the perfect time to indulge in a delightful treat!
This set of five Cuticle Oil pens come in the following scents (Updated 8/3/21):
A favorite holiday treat - chocolate and peppermint bark candy. Invigorating peppermint is mixed with delicious dark chocolate 
A burst of sparkling cranberries mingles with juicy cherries and fresh peaches with a hint of hibiscus, rose petals, and rich vanilla bean. Complex, tart, tangy, smooth, amazing! This is sweet, fruity, laced with vanilla.
A creamy decadence of soft, spiced gingerbread and creme brulee. Warm, nutty, buttery, and spicy with a base of creamy custard and caramelized sugar. 
   An irresistible fusion of hazelnut and a smooth mellow coffee creates a delicious harmony of flavors for any coffee lover.
A yummy, frothy cup of hot chocolate with hints of caramel and creamy vanilla. 
Please Note these oils are meant for topical use and not for consumption. Please make sure the oil is a safe temperature to apply before applying if left in hot areas.
🌱Ingredients may include (unless otherwise stated):
Helianthus Annuus (Sunflower) Seed Oil, Amygdalus Dulcis (Sweet Almond ) Oil, Olea europaea, Simmondsia chinensis seed (jojoba) oil, Tocopheryl Acetate (Vitamin E), Matricaria chamomilla, skin safe fragrance, essential oil.